Our company, your partner
Heol Composites is an expert in the construction of hollow structural carbon fibre parts, including appendages and spars for competitive yachting.

OUR SPECIALITY: HOLLOW AND LIGHTWEIGHT STRUCTURAL PARTS
An exclusive, patented process in the fabrication of composite parts
Heol Composites is an expert in the fabrication of hollow parts with reinforced mechanical properties in a single stage process. We have perfectly mastered autoclave curing (seven bars, 120 degrees), pre-preg carbon / epoxy, in female moulds in aluminium or infused carbon. We have patented an industrial process which allows us to manufacture the parts in one go (ready to go from the moment they come out of the autoclave, without additional machining), and parts with complicated structures, hollow but reinforced with longitudinal stringers, extremely resistant and above all incredibly light.
Cutting edge production methods
We are equipped with an Italmatic autoclave (1500mm diameter, 7000mm long, temperature 220°c, up to 10 bars of pressure, certified aero Class 3), a second autoclave (388mm diameter, 15000mm long, temperature 300°c), a storage freezer for pre-preg materials, an Eastman 10 meter long automated cutting table, a lay-up room, a joinery workshop, an assembly and finishing area, and a collection of moulds and tooling, as well as design and calculation tools.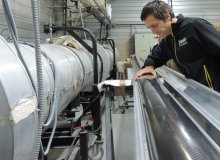 Visual inspection of a Mini 6.50 mast just removed from the autoclave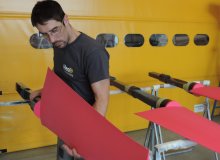 Visual inspection of a Multi50 rudder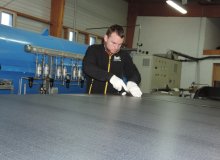 Drape of a carbon sheet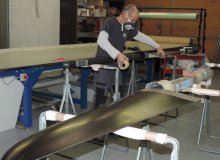 Adjustment of the frets on the rudder wick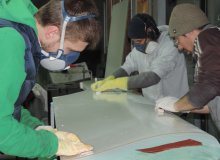 Sanding and NX painting on a daggerboard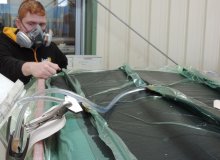 Making a carbon mold by infusion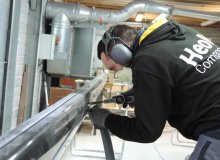 Drilling before deck hardware of a Mini 6.50 mast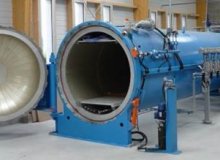 Autoclave approved Class 3 aero, diameter 1.5m, length 7m, 220 ° c, 10 bar
We are well known for our foils, but not only...
One of our strengths: offshore racing and regattas
We are known in the competitive sailing sector since 2002 for our carbon parts, regularly getting to the podium in the most prestigious inshore and offshore races. Skippers and teams confirm that our advanced technology and our reliability have contributed to their greatest victories. Our spars (rigging elements such as masts, booms, spinnaker poles, bowsprits, spreaders, mainsail battens), our appendages (submerged elements, such as rudders, keelfins, daggerboards, and foils) and our internal structural parts (mast braces, daggerboard up structure, biconical tubes…) have mechanical specifications which are optimised for competition.
One ambition: to make boats fly
We have markedly participated in making the following boats fly:  The maxi trimarans Gitana17 and Banque Populaire IX that were launched mid-2017, six of the seven foiling Imoca60's of the 2016 Vendée Globe, the amazing AC45 & AC50 of Groupama Team France skippered by Franck Cammas for the 2017 America's Cup in Bermuda, One-Design foiling catamarans GC32's , which are part of the Extreme Sailing Series and that fly at more than 40 knots, the 18 foot foiling Flying Phantom Essentiel catamarans, the smaller Voilavion catamaran and the foiling 30 foot motorboat Hydros / Enata… Our daggerboards with T foils and adjustable flaps, alongside our lifting rudders and our foils which could be monolithic, solid and / or hollow, in one or two pieces and with varying hydrodynamic profiles, will equally enthuse competitive sailors as well as sailors of luxury super yachts, with an incontestable increase in performance, all around the world.
Automotive competition, industrial applications, aeronautical parts…
Our knowledge, which developed in the highly demanding context of competitive sailing, is adapted to industrial and aeronautical applications and to automotive racing. We are a second tier supplier to Airbus, we build flying parts for light aircraft, and we design technical solutions for niche segments, where the lightness or carbon combined with its resistance allows us to go higher, faster and be stronger.
Strengthened by the continued confidence of its partners, Heol Composites is resolutely committed to going higher, faster, and stronger…